What Lies Beyond Sight:
an Interview with Emily Somoskey
By Side x Side Contemporary - June 11, 2020

Emily Somoskey is a visual artist and educator from Akron, OH. She recently received her MFA from Michigan State University (East Lansing MI) and earned a BA in Art Education with a minor in painting from The University of Akron (Akron, OH) in 2013. Using paint, collage, and mixed media, Emily's current work explores the ways we simultaneously experience physical and mental space. Rooted in domestic interiors, she references the shifting and overlapping nature of our experience with the sensate and psychological realms; giving form to the complexity, instability, and enigmatic nature of our lived experiences.
---

Thank you for taking the time to chat with us! Can you tell us a bit about your journey as an artist?

I've been making art for as long as I can remember, but it wasn't until I took an art class in High School that I realized how deeply passionate I was about making and sharing art with others. I knew I wanted to keep making and sharing art in some capacity, so I went to the University of Akron, in Akron OH to pursue a BA in painting and art education. After graduating in 2013, I taught art at the K12 level for 3 years before deciding to pursue my MFA in painting at Michigan State University. My journey as an artist has been very much tied to teaching, and I see them as being very connected practices. I enjoy talking with students about their work and find that it motivates and energizes me to keep my studio practice active. I just finished my MFA in May, and I'm excited to be able to continue making my work while teaching undergraduate students at Whitman College in WA in the Fall.

What is your artwork about? Tell us about the ideas that you are investigating in these pieces.

In these mixed media pieces, I'm constantly thinking about ways to reflect our lived experiences through the language of abstraction. Most of this work is rooted in domestic interior spaces, which I pull quite a bit from my growing up in a middle class, suburban household in Ohio. I use domestic spaces to speak to how we experience physical and psychological space simultaneously. We live amidst a constant state of change, and my work reflects how we adapt and dwell within the uncertainty at times.



You mention that your work is an exploration between the actual and the psychological, the material and the immaterial, the visible and the invisible. Can you elaborate on these dualities that you are engaging in your work?

So much of our experiences are felt rather than seen, and I use varying levels of abstraction to allude to speak to the things that "lie beyond sight." Representational elements emerge from an expanse of abstraction as a way to give a grounding to the type of space I am rendering, only as a way for the viewer to grasp, not to completely understand. Our experience in "actual" space is so much informed about our perception, which is continually shifting from moment to moment. I use visual tension between flatness vs. space, along with varying levels of representation and abstraction to allude to and fuse these two worlds.



It seems that a kind of mindfulness, of slowing down and noticing, is an important component of what you are searching for in your work. Would you agree with this?

Absolutely. Part of what I'm trying to convey within this work is the importance of embracing the chaos and appreciating the smaller moments that are often overlooked. Our lives are filled with energy, change, uncertainty, and vacillating emotions. Because these paintings are so large and visually dense, they require the viewer to slow down to see and process all of the small moments that exist within them. I'm essentially creating spaces for viewers to slow down and project into, as a way for them to contemplate and reflect upon their own experiences.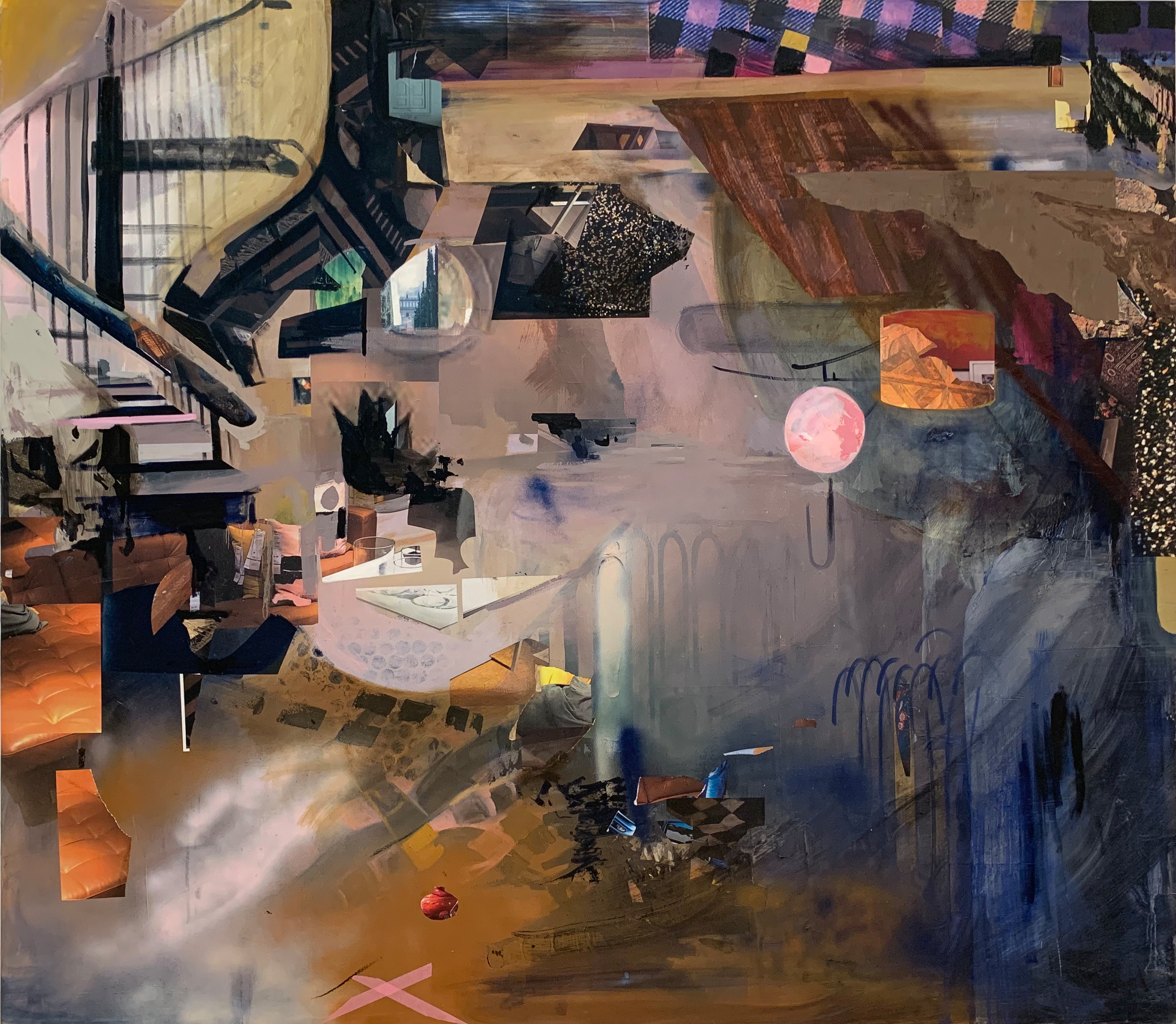 How do your work processes and materials relate to the ideas that you are referencing in your paintings?

Although I mostly use oil paint and collaged digital prints, I use a wide variety of materials, including spray paint, airbrush, acrylic paint, found prints, chalk pastel and oil pastel. Using all of these different materials increases the complexity and visual language of the work. I see all of these disparate materials coming together to speak to the complexity of the world we live in, and the vastness of our experiences.

I also investigate ways to integrate paint and collaged prints so that at times there's no clear delineation between the two. Although both are essentially pigment on a support, they have extremely different material characteristics. With paper, there is also an edge that sits separate from the canvas. In an attempt to merge the mediums, I often use stencils to apply paint. Stencils allow the paint to take on the aesthetic of collage, and in turn I also photograph areas of paint to collage into it so that it becomes difficult to discern one from the other - but there are also areas where it stands out as an articulator or disruptor to the surface. I utilize each medium's inherent qualities to complicate the language of the work, and at times reverse their expected visual aesthetic.



What is your inspiration right now? What are you listening to, reading, or watching?

I find it so motivating to listen to podcasts where artists are interviewed about their work and journey as an artist. A couple that I listen to regularly are "I like your work" hosted by Erika B. Hess and "Studio Break" hosted by David Linneweh. It's easy to feel lonely or isolated as an artist, and listening to others talk about their work helps me feel connected to a larger community of people that are going through/have gone through similar things that I have.

On top of that, I feel like I'm always reading multiple books at a time. I have a hard time reading a book straight through because I become interested in so many different things. Right now I'm reading a book called What is Painting? by Julian Bell along with How to See by David Salle and several others that I jump back and forth between - I always have a long list of books, podcasts, and interviews that I'm working my way through when I need a break from the studio.



Is there anything you would share with your younger self about becoming an artist? What has been an important resource for you along your journey so far?

If I could tell my younger self anything, it would be to trust yourself and keep giving it everything you have. I can't tell you how many times I've doubted where I would end up at the end of all of this, but being an artist is really a way of life. I've chosen to pursue it because it gives me purpose, helps me navigate the world around me, and I hope that I'm able to help others better understand their world as well. There's so much self-doubt that I think is just inherent in being an artist…it's a vulnerable position to be in with a lot of uncertainty, but that's what also keeps it exciting. You just have to learn to live with some of those feelings and know at the end of the day you're doing what you love.



---
Images © 2020 Emily Somoskey
Image list :
- Emily Somoskey, Low Tide, 84"x 96", Oil, acrylic, spray paint & collaged digital prints on canvas, 2019
-Emily Somoskey, Cascade, 84"x 96", Oil, acrylic, spray paint & collaged digital prints on canvas, 2019
-Emily Somoskey, Incandescent, 84"x 96", Oil, acrylic, spray paint & collaged digital prints on canvas, 2020
-Emily Somoskey, Nested (studio shot), 84"x 96", Oil, acrylic, spray paint & collaged digital prints on canvas, 2020
-Emily Somoskey, Bedrock, 84"x 96", Oil, acrylic, spray paint & collaged digital prints on canvas, 2019

*For more info on Emily Somoskey's work please visit her

website

&

Instagram

*You can see Emily Somoskey's exhibition

here

.

---
Interview by:
Side x Side Contemporary
Mana Mehrabian & Krista Brand