"Irritation:Intervention"
An interview with Nicolas Vionnet
April 27 , 2021
By Side x Side Contemporary
Nicolas Vionnet lives and works in the Zurich metropolitan area. He studied at the Academy of Art and Design in Basel. In 2009 he graduated from the Bauhaus-University Weimar with a Master's degree in Public Art and New Artistic Strategies. His extensive exhibition record includes the 5th Odessa Biennale of Contemporary Art (Ukraine), 4th Aarhus Biennial Exhibition Sculpture by the Sea (Denmark), III Moscow International Biennale for Young Art (Russia), The Wilson - Cheltenham Art Gallery and Museum (UK), Städtische Galerie Kubus Hannover (Germany), Alpines Museum der Schweiz Bern (Switzerland).
Nicolas Vionnet is rooted in painting. His chiefly large-scale works play with space and expanse. Although almost always realistic, his paintings have more in common with abstract images than real landscapes. Vionnet is fascinated by irritations: interventions that approach and create a non hierarchical dialogue with the environment. This discussion opens up a field of tension, which allows the viewer an intensive glimpse of both these phenomena. Vionnet uses the same approach and the same strategy for his installations and objects: irritation and integration. A fundamental confrontation with the history of a place leads to a subtle and more precise intervention of the object, a reference to changes in time and aesthetics.
---

The idea of "space , place, and environment" seems to be engaged and questioned a lot in your work. From your paintings to your sculptures, public art, interventions and installations. Tell us more about this idea that you persue in your practice.

My roots lie in painting, I actually painted almost exclusively in the first few years [of my practice]. In doing so, I always placed a very strong focus on the work. It was only years later, when I started my master's program "Art in Public Space and New Artistic Strategies" at the Bauhaus University in Weimar, that space suddenly became more important. I suddenly no longer simply had a white wall as a playing field, but a place or space in public space with a very specific background. New questions were important, like: What kind of history does this place have? How is the place used by the inhabitants and what function does it have within the city? In order to make an intervention, it was logically important to first learn more about the space and become familiar with it. During this time, my approach, as well as the entire artistic process, changed significantly. Today I can say that many of my works are inspired and developed from the place, so they are site-specific. Funnily enough, painting is still part of my work, it's just more in tune with the space now.





We would like to know more about your public interventions. An artificial grass island, a pink/purple section of grass or a fountain in the middle of the sea! There seems to be a kind of playfulness in your disruptions. Can you tell us more about these projects?

I realized the artificial grass island in 2008 in the Weimarhallen park in Weimar (Germany) was one of my first larger interventions in public space. During my research I found out that the whole park was built artificially, including the big pond in the middle of the park. Originally, there was simply a lawn there. The goal of the project was to put a piece of lawn back in its original place, so to speak. With the shape of the grass island (a square) I wanted, on the one hand, to take up the artificiality and severity of the existing landscape architecture. On the other hand, I wanted the artificiality to be simultaneously broken through the mobility of the floating lawn.





The project "Colour Me Surprised" was a collaboration with my good friend Wouter Sibum from Rotterdam. We studied together at the Bauhaus University and have since then repeatedly worked together on joint projects in public space. "Colour Me Surprised" was created in 2012 as part of the III Moscow International Biennale for Young Art and was on display in the park next to the Central House of Artists in Moscow (Russia). We worked with a special chalk pigment which is non-toxic and therefore absolutely harmless for plants and the environment. Due to the high opacity and luminosity of the paint, we succeeded in completely turning the surface appearance of the colors upside down, while the structure and surface of the lawn remained unchanged and recognizable. The idea was to transform and to turn a familiar landscape into a new condition, where the transformation of a color was much more important to us than the change of the structure itself. The covered grass was still recognizable as a lawn and kept its specific texture.





"The Wailers" was an imitation of a real whale fountain and another collaboration with Wouter Sibum. We presented this piece as part of the sculpture biennial "Sculpture by the Sea" in Aarhus (Denmark). With "The Wailers" we decided to do a work related to two contexts: first, the sculpture exhibition itself. Second, the situation of whales continuously being killed in seas in Denmark's territory, Greenland. We aimed to handle both contexts with subtlety and decided to create "sculptures" that were only visible at limited moments in time.





You mention that some of your work references "changes in time and aesthetics." What is the role of history and time in your practice?

When I work in public space, I very often deal with the history of a place. This helps me to learn more about the place and to familiarize myself with it. Of course, there are many ways to do so, be it through conversations with the inhabitants or through literature. What I find extremely exciting and inspiring is to visit a city archive. I often discover unexpected material like old photos or city maps and can thus better understand the development and transformation. Very often I also develop my first spontaneous ideas in this phase, which then persist during the work process and actually flow into the final work.





Let's talk a bit about your sculptural pieces! It seems to be a connection between the human body and these objects. Also, after seeing your public projects, these objects might bring up this question of what relationship is your work creating between public and private spaces.

Funnily enough, I started out of dissatisfaction with the sculptural pieces. There was a time when I often was the only artist in gallery group shows showing in the outdoor space. I was often overlooked as a participant of the exhibition and people did not realize that somewhere out there one of the artists had created an additional work. I must admit that I was not really happy with this situation. So I started to create a small corresponding object, which could be also shown in the gallery space. You can compare it with the idea of an edition.

This is how I started to occupy myself intensively with objects and sculptures, which are now an important part of my work. And to come back to your question, it is of course the case that with my objects I have tried to connect the private space, in this case the gallery space, with the public space. In my objects I also pursue a similar strategy as in my interventions: irritation and integration. I try to find everyday objects that are able to merge together in order to provoke and irritate.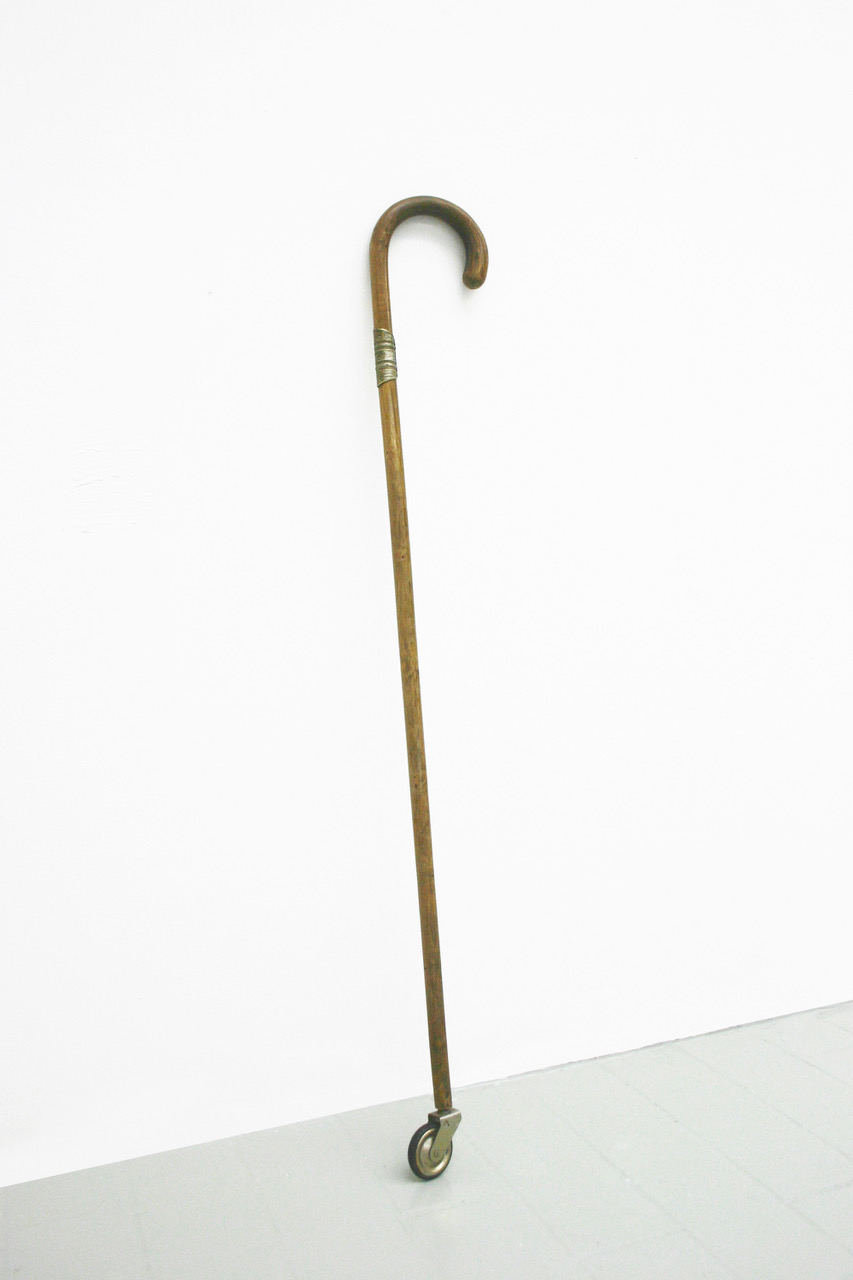 Tell us about your work process.

Since up to now I have talked more about my works in public space, I would like to say something about the working process in my sculptural works. I often browse my sculptures and objects through charity shops and antique stores and mostly buy things that I like at first sight. Often it is old or antique objects that fascinate me in terms of design, form, and processing. Mostly, I have no idea what to do with them at this moment.

In a second step, I then try to work on the objects in the studio and develop them further. Since I already have a relatively large collection lying around, it often results that I suddenly see a possible connection of two or more objects. Often, however, the ideas come to me through sketching and I go in search of the still missing material.





What function does humor have in your practice?

In fact, humor is an important component in my work today. I like it when art brings a smile; it is a strategy to establish contact or access for the viewer. I also think that good art should irritate, and good humor, in my view, has a lot to do with irritation.





What artists do you admire? What is inspiring you right now?

Of course, there are many artists that I admire and that impressed and influenced me in my research and my work. It is difficult to list the most important ones, because I will likely forget some. However, I would like to mention Swiss artist Roman Signer. I love his humor and charm coupled with a pinch of seriousness. He always manages to raise a smile – an important quality that I miss from other artists. There are, of course, many others that I really like, too: Robert Gober, Elmgreen & Dragset or Ahmet Ögüt, just to name a few.


We are still in the middle of a pandemic and it's been a tough year for everyone including artists. But we just want to know if you are currently working on any projects or do you have anything coming up? How the current circumstances have affected your practice and opportunities.

For me, the lockdowns in particular had the effect that I spent even more time in my studio. Since the stay in the public space was partly strongly regulated, I was simply in the studio most of the time and worked. In this sense it was a productive time in which I was able to complete many projects and works.

Of course, I also had several exhibitions that were canceled or postponed. So now in 2021 I have a whole series of exhibitions that are now planned and hopefully can be carried out. The most important event is certainly my first solo exhibition at BBA Gallery in Berlin (Germany). This is planned for July and will show a wide selection of installations, objects as well as paintings. In September I will participate in a group exhibition at the Kunsthalle Pallazzo in Liestal (Switzerland), where I will occupy two complete rooms. I will also participate in two shows in public space: the exhibition "Orbit" in May and the "Twingi Land Art" in June. The "Twingi Land Art" takes place in the unique natural and cultural landscape of the Binntal (Valais, Switzerland) and shows exclusively site-specific installations and interventions.



*For more information on Nicolas Vionnet's work, please visit his website and Instagram
Interview by:
Side x Side Contemporary
Mana Mehrabian & Krista Brand
---
Video documentations of some of the featured works in this interview :









© All Images courtesy of the artist
Image list:
Image 1:

Nicolas Vionnet,

Do Not Call Me Painting Again!, 2013, patterned fabric on canvas, lacquer, paint splashes (wall and floor), 210 x 100 x 30 cm
Image 2:

Nicolas Vionnet, Island, Catch Me If You Can, 2008, wooden frame, styrofoam, fabric covering, turf rolls, 5 x 800 x 800 cm , Location: Weimarhallenpark, Weimar (DE), Exhibition: Wanderlust. Art for the public space in Weimar


Image 3:

Nicolas Vionnet, Colour Me Surprised, In collaboration with Wouter Sibum, 2012, chalk pigment on grass, 15 x 1100 x 1100 cm, Location: Art Park Muzeon, Central House of Artists, Moscow (RU), Exhibition: Under A Tinsel Sun, III Moscow International Biennale for Young Art


Image 4:

Nicolas Vionnet, The Wailers, In collaboration with Wouter Sibum, 2015, air nozzles, air compressor, air hoses, control panel, floating bodies, anchoring systems, dimensions variable, Location: Strandvejen, Aarhus (DK), Exhibition: 4th Aarhus Biennial, Sculpture by the Sea, Denmark


Image 5:

Nicolas Vionnet,Maria wärst du hart geblieben, wär Weihnachten uns erspart geblieben, 2016/17, PVC floor coating, iron and enamel hip bath, bathroom fittings, shower curtain, shower curtain bar, audio, dimensions variable, Location: Kunsthalle Palazzo Liestal (CH), Exhibition: Regionale 17


Image 6: Nicolas Vionnet, Rock'n'Roll (I feel very sorry), 2014, micaceous iron colour on framed canvas (overpainting, Artist: H. Meier), walking stick with brass fitting, rubber wheel 190 x 170 x 15 cm (variable)
Image 7:

Nicolas Vionnet, If I hadn't seen it with my own eyes, I wouldn't have believed it, 2018, mincer, rubber cord, 12 x 28 x 22 cm


Image 8:

Nicolas Vionnet,

C'era una volta il West, 2018, electric hotplates, flute kettles (stainless steel), water, automatic timers, 120 x 75 x 40 cm (H x W x D)
Image 9: Nicolas Vionnet's Studio, Grüt (Zurich), Switzerland