Liminality and Landscape:
A Conversation with Giulia Cacciuttolo
October 27 , 2020
By Side x Side Contemporary
Giulia Cacciuttolo (b. Rome 1991) holds a first-class BA degree in Painting from the Academy of Fine Arts of Rome, and two Master's Degrees, one in Painting from Wimbledon College (UAL – London) and one in Fine Art from Central Saint Martins (UAL – London). She currently lives and works in London. She has been nominated for and won several awards - Delphian Open Call 2018, Mona Hatoum Bursary and the MiAL & METRO Mentorship 2016 among others, and in 2019 she has been awarded a major commission from DLA Piper UK for their new London headquarter.

Between 2019 and 2020, she has been part of the Tate Exchange Labs at Tate Modern in collaboration with Central Saint Martins, she took part in the Masterclass in Residence "DEFAULT19" held by Ramdom in Gagliano del Capo and she currently is AA2A Project's Artist-in-Residence at the University of Hertfordshire. She has also recently been an artist-in-residence at the Copper Leg Art Residency in Tallinn (EE).

Giulia has several exhibitions planned across Europe for the near future and a current solo show at Galleria Ramo, Como.

---




You were recently part of our juried exhibition, So Close. We're so excited that you are back with us for this interview! Can you tell us a bit about your background as an artist?

I have been fascinated by the arts since I can remember. When I was really young, I was more prone to drawing; growing up, I shifted more towards theatre, dance and music. However, when it came to making a decision after high school, I was very uncertain: I would have loved to pursue a career in the arts, however, I decided to listen to all those people telling me that I should have chosen a more "secure" career path. So, I got into a BA in Finance in Rome and although I have always been very curious about any topic and eager to learn new things, I was really unhappy during that period of my life: I couldn't focus on anything and I couldn't get myself to enjoy what I was learning. Then, completely by chance, I visited a friend's sister at the Academy of Fine Arts of Rome: it was for me some kind of epiphany. I could not believe that there was a university in which you could learn about painting, sculpture, printmaking… It looked like a dream come true. So, after one year of studying Finance, I decided that for me it was more important to do what I loved rather than what could be defined a "safe" choice: I quit my Finance studies and got in the Academy of Fine Arts of Rome, where I obtained my BA in Painting, with a period of study at the ENSAD in Paris. After this experience I went back to Italy and, as I have always been a quite "nomadic" person - after some time in one place, I have always felt the need to move and wander, experience someplace else, I started to feel the need to move again. I worked as a studio assistant for Lawrence Carroll, which was a truly pivotal experience for me both as a person and as an artist. From there, I decided to study in London – which had been my aim for a while at that point - and moved there. I have done a MA Painting at Wimbledon College and MA Fine Art at Central Saint Martins, from which I graduated in 2019.
I am quite satisfied with my path so far as I feel that every experience – regardless of how small – I undertook has contributed positively to my personal and artistic growth. I have now a studio in North London.






Your work explores contemporary archives and how we pass down our histories. T

ell us mo

re about these themes in your research and work.

I have had a strong attraction towards the past, what is gone and our memory since I can remember. Probably, the relevance the past and remembrance have in my research today come from the education I got from different generations in my family. It has always been important in my family to remember where we came from in order to better understand who we are and who we want to be. That is also probably why, later down the line in my practice which started as a research on memory - I have been interested in archives as a means to hand down a part of us: whether is our personal history, our family history, our heritage, the history of a community and so on. I believe this research can be considered relevant for anyone and any community. One of the interesting points that I am trying to explore is how can art - and artists - intervene in a relevant manner around these themes and help people to engage and reflect on them.







Your work questions the traditional presentation of the medium of photography and also sculpture. It's very interesting that you are creating a new experience of viewing photographs with unconventional presentation. Would you agree with this?

Yes, I do agree. I believe it is important to underline that I can't be considered a photographer: I don't have the technical skills and preparation that it requires to be considered one. As you said, I use photography as a medium, as a mean to reach something else, and I have a very experimental approach to it. I would say that photography for me is the most honest way to depict a memory both conceptually and aesthetically. Moreover, I am interested in researching new outcomes coming from its combination with sculpture and installation: how can photography gain physicality and a perceivable presence in the space? How can it become the embodiment of a place, of an object, of a memory? How can I challenge its interaction with the public?







Your choice of utilizing analog photography seems like a very important aspect of your work. Tell us more about the material, techniques and the processes that you engage in your work and how they help you in delivering your message?

Theoretical research has a very important role in my artistic practice; however, it is always accompanied by a strong and constant practical research. Experimentation is fundamental to my work. On one side, I imagine a work and then work my way around how it would be technically possible to realise it; on the other hand, often this approach leads me in places which I could have never imagined... we could call them "happy accidents." I usually have an idea in mind, but I actually love to leave the materials to lead me to unexpected results. Regarding the meaning of a piece: of course, I have a realm of research, but often the precise message behind a specific work is quite open and I enjoy letting the materials and the process to define it more clearly. So far, I have worked a lot with casting (with plaster, paraffin wax, jesmonite) and recently with printing on fabrics (latex, liquid latex and silk) and paper (mainly tracing), all of it always accompanied in one way or another by analog photography. I guess I am attracted by translucent materials which both aesthetically and conceptually embody some characteristics of memory and remembrance – stratification, overlapping of more than one layer, unclearness, and so on.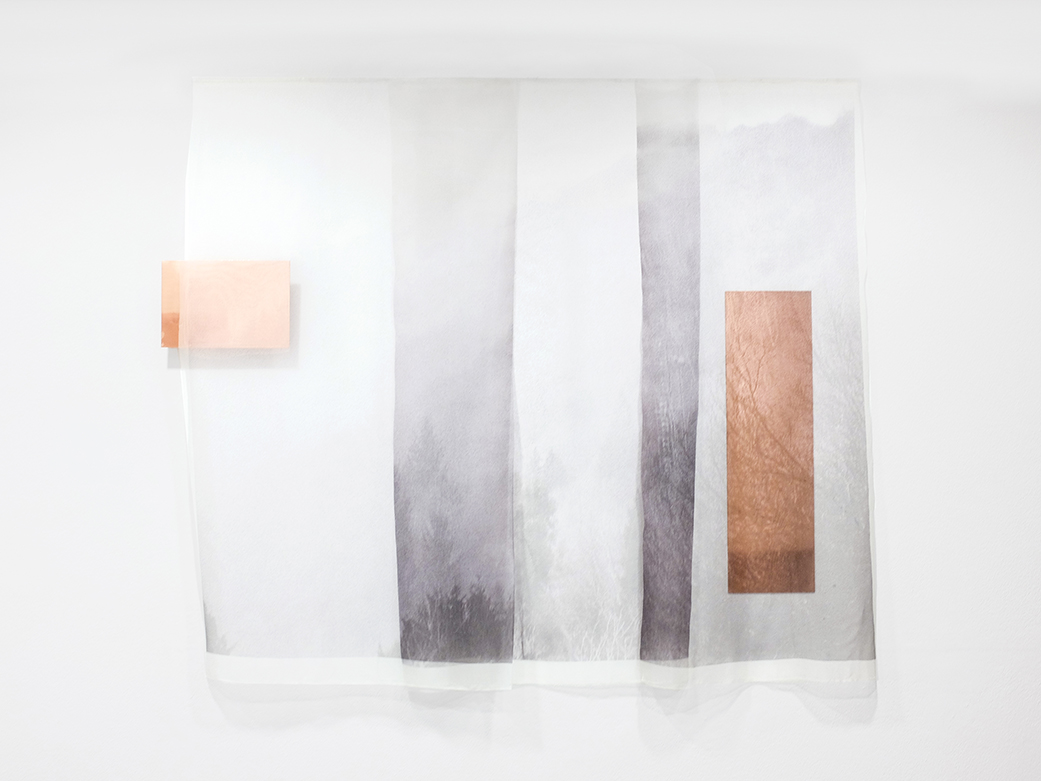 We can see that you engage landscape and nature in your subject matter as well. How do you see the interaction of the physical relationships between memory, space and landscape?

I believe that we shape the environment (and consequently, the landscape) in which we live in as much as it shapes us. Moreover, landscape – especially the natural one – could be seen as something very similar to our mind: a stratification of lives, experiences, moments. Lately, I have been interested in exploring precisely this parallel, with particular attention towards all those spaces – whether mental, physical or both – that can be defined liminal. Liminal spaces can be
defined as all those spaces "between or belonging to two different places, states," so any space or place which can be considered of transition (for example, between the land and the sea, between the urban and the natural landscape, and so on).







You currently have an exhibition on view named "A safe view from a tamed world." Can you tell us a bit about this exhibition and the work that you have on view at Galleria Ramo?

For my exhibition at Galleria Ramo I presented a series of new works where positive scans of negative 35mm films have been printed on silk organza and presented with copper plates. When working on an exhibition, I always like to be quite "site-specific," in the sense that I am interested in creating some kind of connection with the space and the place surrounding it. In this case, I wanted to give to my current research around landscape and its potential stratification of memories a special focus on Como. All the images printed on silk organza have been taken either near the lake or on the mountains surrounding it during a research visit I made on purpose a few months back. It has been amazing to see locals recognising the views and sharing with me some of their stories and memories. As stated in the critical text written by the curator of the exhibition, Federica Fiumelli:

"[…] The profound, abyssal "Tarkovskian" atmospheres, close to the Apocalypse, but quietly graceful, refined and full of moving and apparent calm can be found in Cacciuttolo's works which by using the photographic medium condense in the image the mnemonic imperfection of a place. In this specific case, we are in the nature surrounding Como's lake - as an incipit by Manzoni - and the artist allowing us to drown into the evanescent smoke of a vision. According to a great witness of the 19th century, Primo Levi, "memory is amazing, but deceptive," or rather subjective, personal, intimate - so precious that it can not be mixed or confused with others.' In this regard, we could define memory as a reflection/confession that we have with history, with the phenomenal, with the happening - a therapeutic dialogue of sorts. The choice of the artist to use silk organza, makes even more precious, the passage of the photographic image from starting point to pure essence, distilled - in a physical, real space. The black and white image now assumes new shapes and movements before our eyes; the lines and the sinuous, sculptural folds, as spatial ripples, are suspended and suspend our vision, and our judgement as well. Another material comes into play almost allowing us to ponder, almost interrupting this silent movement: copper. Another precious material with an ancient history, powerful and reflective, almost magical: appears behind the sculptural images almost pointing us towards a detail, a fragment that can accompany us in this graceful narrative journey in the vague memory of places."

The prints are presented with copper plates that act almost as a "catalyst" for some otherwise potentially overlooked delicate details of the prints; they enhance and – in a way – make more visible also all the other details, even in the areas without the copper. The team at Galleria Ramo is an incredibly rare mix of high professionalism, openness and love for contemporary art and emerging artists: it has been a great pleasure to work with Simon, Benedetta - Simon David and Benedetta De Rosa are the founders of the gallery, Andrea Barda - the gallery assistant - and Federica Fiumelli – the curator. Federica and I are already working together on some future projects and I really hope to have the chance to work again with Galleria Ramo, too.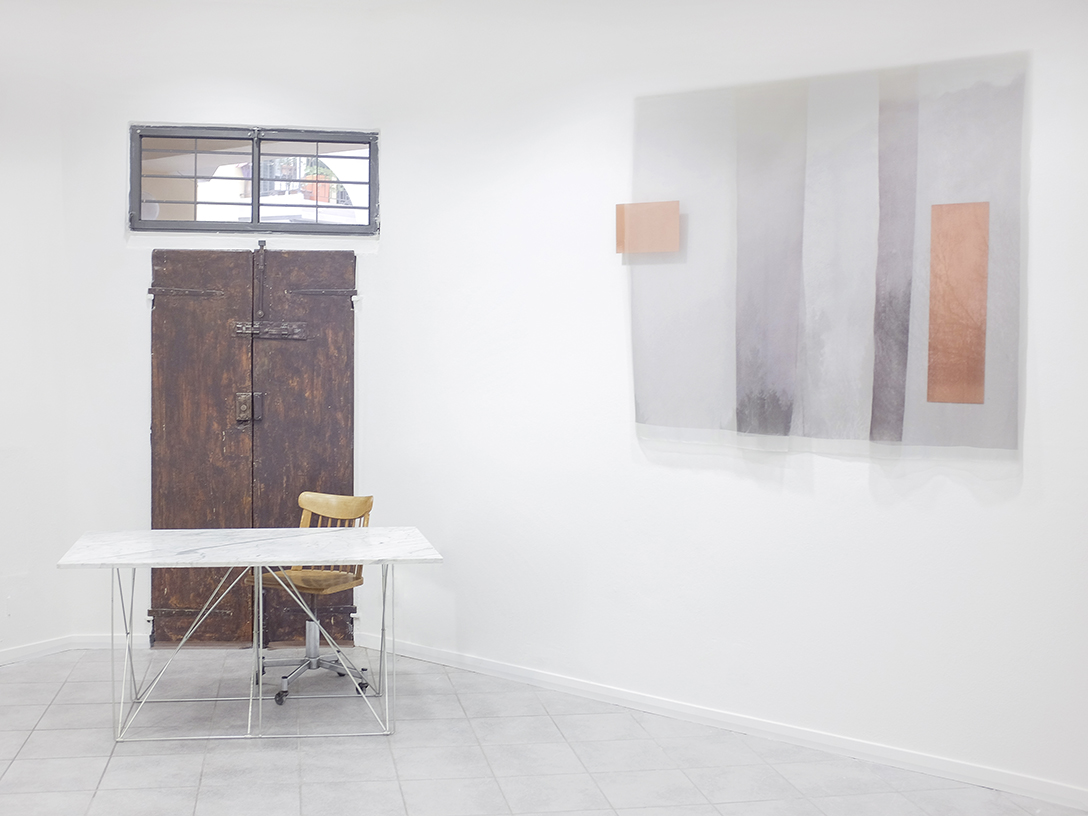 What's a day like in your studio? Can you tell us about your work process?

My work process is very organic and fluid. I usually cycle to my studio, which helps me to get into a more focused status. When I arrive at the studio, I usually make myself some tea and start to reflect on what I would need to work on during that day. Usually, I mix some more "admin" related tasks with some practical experimentation. However, there are some days in which I really can't focus on anything and I like to spend them reading or browsing artists' interviews and documentaries.

Are there any art-related resources that have been helpful to you that you'd like to share with our readers?

My work is inspired by many different not-art-related sources: a lot of literature, poetry, archaeology and natural science. These really fuel my research and my work, sometimes more than what could be considered more "orthodox" art-related sources. Right now, I would recommend reading "And Our Faces, My Heart, Brief as Photos" by J. Berger and any Olga Tokarczuk's books, especially "Flights."


*For more info on Giulia Cacciuttolo's work, please visit her website and Instagram

*The works in this interview are from Giulia Cacciuttolo's exhibition A safe view from a tamed world curated by Federica Fiumelli. This exhibition is on view from 10 October 2020 to 10 January 2021 at Galleria Ramo.



---
Interview by:
Side x Side Contemporary
Mana Mehrabian & Krista Brand


© Giulia Cacciuttolo; All Images courtesy of Galleria Ramo

Image list:
- Giulia Cacciuttolo, A safe view from a tamed world I, 2020, Positive scans of negative 35mm films printed on silk organza, copper plate
- Giulia Cacciuttolo, A safe view from a tamed world II, 2020, Positive scans of negative 35mm films printed on silk organza, copper plate
- Giulia Cacciuttolo, Installation view: A safe view from a tamed world, curated by Federica Fiumelli, 2020, Galleria Ramo
- Giulia Cacciuttolo, A safe view from a tamed world IV, 2020, Positive scans of negative 35mm films printed on silk organza, copper plate
- Giulia Cacciuttolo, A safe view from a tamed world III, 2020, Positive scans of negative 35mm films printed on silk organza, copper plate
- Giulia Cacciuttolo, Installation view: A safe view from a tamed world, curated by Federica Fiumelli, 2020, Galleria Ramo