So Close: About The Artists
Exhibition Dates: June 22 - July 12, 2020
View the exhibition here



---
Chiara Maria Suraci
Instagram
Chiara Maria Suraci is a visual artist from Milan. Since she was very young, her passion for fine arts and humanities encouraged her to undertake art-focused studies. After obtaining her secondary school diploma, interested in the studies of European art history, Chiara decided to experience a sabbatical year - a period that she spent between the cities of Vienna and Berlin, where she worked and studied. Then, she decided to continue her artistic path by enrolling in NABA (New Academy of Fine Arts) in Milan.
Her current work puts its focus on the asymptotic link between subject and representation and explores aspects of everyday life while living in big cities, thinking about concepts of emptiness and alienation.
Artist Statement:
"Informal path" comes from a photo of the bedside table that I took in my room. Through the obsessive copying process, I created a labyrinthine journey through everyday objects, thus giving authority and a new meaning.
Within the walls of my house, every object became a reason for reflection, and it is a fascinating state for me to observe how the disorder of the objects that I have represented presupposes the appearances of a labyrinth: confused, informal, intimate.
The dimension of emptiness and the silence due to the blockade have come to life in everyone's homes. I particularly felt this benevolent discomfort and the circuit I represented, closed, daily, annoying, has become a psychological place for me."
*Chiara Maria Suraci, Informal Path, 2020, graphite on paper, 100 x 140 cm
---
Giulia Cacciuttolo
Website
Instagram
Giulia Cacciuttolo (b. Rome 1991) holds a BA degree in Painting from Academy of Fine Arts of Rome and two Master's Degrees, one in Painting from Wimbledon College (UAL – London) and one in Fine Art from Central Saint Martins (UAL – London). She currently lives and works in London. She has been nominated for and won several awards - Delphian Open Call 2018, Mona Hatoum Bursary 2018, and the MiAL&METRO Mentorship 2016 among others. Between 2019 and 2020, she has been part of the Tate Exchange Labs in Tate Modern in collaboration with Central Saint Martins, she took part to the Masterclass in Residence "DEFAULT19" held by Ramdom in Gagliano del Capo and she currently is AA2A Project's Artist-in-Residence at the University of Hertfordshire. She has also recently been an artist-in-residence at the Copper Leg Art Residency in Tallinn (EE).
Artist Statement:
"My research and practice are focused on investigating memory, our past and the way we relate to it. Therefore, I constantly confront myself and my practice with the concept of being together united or the idea of something that could have been, that has almost been, but it hasn't in the end.
How many times is once more
presents the idea of
almost
uniting, but not quite, on a physical plane: the folds of the prints are very close to touching each other and the stone, creating a tension and a sense of expectation in the spectator.
The Third Half
plays around with the transparency and the superimposition of the material used in order to suggest a place, a memory without fully materializing it."
*Giulia Cacciuttolo, How many times is once more, 2018, B&W thermal wax prints and stone, 80 x 100 x 40 cm
*Giulia Cacciuttolo, The third half, 2019, B&W film photographs scanned and printed on polyfilm, aluminium structure, sand, variable dimensions
---
Christy Wittmer
Website
Instagram
Since earning her MFA from the University of Cincinnati, Christy Wittmer has taught and utilized residencies to create artwork in dialog with locations around the world. In 2016-17 she was awarded a Fulbright grant to study ceramic practices in Jingdezhen, China. In 2015-2016 she was an artist in residence at the Lawrence Arts Center in Lawrence, KS and at the Banff Centre in Alberta, Canada. Most recently she has been a visiting artist at Australia National University and created artwork in the foundry as part of the Kohler Company's Arts/Industry Residency. She is currently living in Phoenix, AZ, and is a member of Eye Lounge artist collective.
Artist Statement:
"Shaped by a desire to observe how materials interact, my work is a question: What is going on here? Balancing experimentation with skilled craft I create sculptures and installations that challenge expectations of function and notions of stability. The work often utilizes the materials at hand, and I mine the landscape for debris that goes unnoticed. Fragments of bricks and broken pieces of cement, both of the earth and manufactured, are evidence that humans have lived here. I collect and curate these artifacts into sculptures. Arranged, assembled and stacked the work is held together by the weight of one object supporting another. It is unified but only barely so, this tenuous stability considers the temporary equilibrium of the present moment."
Christy Wittmer, An Urgent Cairn, 2020, Wood, glazed soft brick, epoxy, Found rocks, 60" x 12" x 12"
*Christy Wittmer, Fragile Connection, 2020, Porcelain, wood, glazed soft brick, 50" x 11.5" x 11.5"
---
Website
Instagram
Born in Nashville, Tennessee, Andre Ramos-Woodard is a contemporary artist whose works evoke feelings of memory and internal narrative. Primarily working with photo-based manipulation and drawing, he conveys ideas of communal and personal identity through internal conflicts. Ramos-Woodard is influenced by personal experiences he went through while discovering his own identity–he is queer and African American, both of which are well-known targets for discrimination. He uses his art to accent the ideas of separation between himself and the viewer, specifically those that may not resonate with the ideas of the Other or problems within minority groups in contemporary culture. Ramos-Woodard received his BFA from Lamar University in Beaumont, Texas, and is currently pursuing his MFA at The University of New Mexico in Albuquerque, New Mexico.
Artist Statement:
"As a maker, I explore my personal identity and experience as an African American. I use my art to interpret what it means exactly to be myself: a black man struggling with mental health in a world and country that historically has stereotyped and discriminated against the black body. My photographs...are intuitively collaged with text, symbolic illustrations, and appropriated imagery from my family archive as a way of visualizing emotion and reconnecting with the many family members I can no longer see. The images act as both visual responses to the world around me and interpretations of my inner thoughts."
*Andre Ramos-Woodard, Untitled (LIVE LAUGH LOVE), 2019, Archival inkjet print, 22" x 28"
---
Website
Instagram Dani Minuskin is a sculptor, painter, and installation artist from Toronto, Ontario. After graduating from OCAD University in 2016, she moved to Leipzig, Germany to participate in various artist residencies, exhibitions, teaching opportunities, and community arts organizations. Dani has lived, worked, and exhibited in Toronto, Glasgow (UK), and Leipzig. Always interested in the therapeutic potential for the arts, Dani is currently based in Montreal, Quebec, completing her graduate studies in creative arts therapies. Her current research endeavors to examine the therapeutic possibilities of art-making with found and foraged material, focusing largely on contemplative self-reflection and mindfulness practices.
Artist Statement:
"
Memorial to the Essence that Devours Us
(2017) is a combination of coal ashes from the oven in my first apartment in Leipzig and honey. The ashes hold the residue of that experience, as well as the historical and contemporary implications of coal use in the former GDR. Ashes, far more often than not, are a rejected material. Holding the weight of their context but often rejected, I used honey as a binder – an ancient preservative – to join these small neglected particles. The work remains delicate and fragile, yet resilient in its somewhat monumental presence, depicting the contradiction of our frail yet resilient memories. It attempts to preserve ephemeral experiences in delicate combinations that illuminate the 'so-closeness' of impermanence in a state of dissolving."
*Dani Minuskin, Memorial to the Essence that Devours Us, 2017, Coal ashes, honey, wood, bricks, 45" x 32" x 15"
---
Website
Instagram
Kelda Martensen is a visual artist known for her work in printmaking, collage, book arts, and murals. Awards include the Bell Cramer Award in Printmaking, the Conceptual Visionary Award from Pratt Fine Art Center and an Individual Artist Award from the Sustainable Arts Foundation. She was an Artist-in-Residence at Cité Internationale des Arts in Paris, France, Pratt Fine Art Center in Seattle, and will be in residence at Pine Meadow Ranch in 2021. She is a participant in the ongoing, self-directed Artist Residency in Motherhood, a project started by social practice artist Lenka Clayton. Martensen is Tenured Faculty and Department Chair of Art at North Seattle College. Martensen earned a BA in Studio Art from Willamette University and an MFA in Visual Art from Washington University in St. Louis. She lives in Seattle, Washington where she is represented by J. Rinehart Gallery.
Artist Statement:
"My recent work is the result of my new relationship with time in the studio, and my own grappling with identity and intimacy within my family and my practice. In these works, my textures call out the wood and water of the Pacific Northwest landscape. The titles and concepts speak to a sense of isolation that comes with aging, raising children, and also the sense of wonder that accompanies living on the land, with oneself, and being in community. Collage is at the center of my printmaking and book arts practice as I seek the metaphors and narratives that arise through colliding imagery and the collapsing of material qualities. "Starting Again" nods toward this sentiment of ambiguity between sadness and meaning while seeking connection."
*Kelda Martensen, Starting Again, 2019, Woodblock, monotype, solvent transfer, collage, 30 x 22 inches
---
Website
Instagram
Ufuk Yılmaz (b.1989) studied fine arts at Uludag University (Bursa, Turkey) and Maria Curie- Sklodowska University (Lublin, Poland). He works as a visual art teacher and continues his personal works in Istanbul, Turkey.
Ufuk Yılmaz explores the transformation of architectural forms and the relationship of these forms between nature and humans. He creates compositions with these familiar and ordinary landscapes and he likes to play with the idea of contradiction between organic shapes and artifacts.
In his works, he also uses measurement grids and disconnected masses, the language of 3D architectural programs, to keep viewer between reality and abstraction and to attract attention to the digital age that we all are living in.
*Ufuk Yılmaz, Layers 14, 2020, Enamel on plexiglass plaques, 40x40 cm (without pedestal)
*Ufuk Yılmaz, Layers 19, 2020, Acrylic on canvas, 100x140 cm,
---
Website
Instagram
Toby Kaufmann-Buhler (based in Lafayette, Indiana) explores history, memory, identity and sensory perception in relation to his family and himself, within individual lives and across broad sweeps of history and culture. Kaufmann-Buhler interprets the evidence of the lives he explores as signals that pass through their respective cultures and time periods; these signals are continuously transformed as they reach our current perception of them. This work amounts to a type of surveillance of these signals, and an examination of the connections between them and himself as they manifest in the work. This work takes form in video, film, found/composed sound, text, installation, performance and interactive media. Kaufmann-Buhler was a recipient of the Individual Artist Program grant from the Indiana Arts Commission in 2018, and in 2020 he will be an artist-in-residence at MASS MoCA. He has a BA in Fine Arts from the University of South Florida and an MA from the Royal College of Art.
Artist Statement:
"The Millwheel Everyday" (2017) is an animation work situating the poem "Farewell" by German poet Gertrud Kolmar (a relation of mine who was killed at the Auschwitz concentration camp in 1943) in relationship with the words of my father Walter K. Buhler, a mathematical historian, and also with Kolmar's own letters to her cousin, writer , and theorist Walter Benjamin. This work explores the proximity of these lives in the vast time span of the 20th century, and how even when detail is lost to time, the relationships between people of different eras can be uncovered and explored."
*Toby Kaufmann-Buhler, The Millwheel Everyday, 2017, 06:19, HD video/stereo sound
---
Website
Instagram
Flora Wilds (b. 1993, San Diego) received her BA in Art History and Philosophy from Suffolk University in 2017, and was awarded an MFA Fellowship from the San Francisco Art Institute in 2019. Wilds has shown work in New York at Flux Factory, Paradice Palase, and Site: Brooklyn, among other galleries, and has been featured on ARTnews and the Women Artists Instagram page. Flora's work is currently dancing within this loop: from object that creates performance, to performance that creates sculpture, to sculpture that creates still image, to still image as archive of an object/objects. Her work is often thinking about the commodification of femininity, digital excesses, the archival gaze, formal/conceptual responses to Minimalism, growing up in Southern California, and popular culture of the 2000s.
Artist Statement:
"...I work with clothing as a means to investigate these patriarchally indoctrinated roles of gender, class, labor, and the physical dramas inherent within these confines, confines historically imposed upon and experienced by bodies...
"False Neutrals, Fake Naturals" recalls the now absent 50 bodies that once wore these shirts (as well as the labor of "masculine"/ "business professional"/ "authority" that these shirts, a staple of the 9-5 capitalist uniform for men, have traditionally signified). This reference to and continued alienation of the body perpetuates the alienation inherent in the object's (clothing, a commodity) existence, as well as the alienation foundational to capitalism and traditional gender roles. In the "swim ssssstretch installation," industrial concrete hunks are placed inside of "girls" swimsuits. Following the conceptual line of the flexibility and weight inherent in learned femininity (a performance often learned at a young age), the concrete is reminiscent of the body that once occupied the object. The concrete fatigues and stretches the swimsuits, elongating their forms from child sized to a size that could contain an adult body. These bodies are not present, but the fatigue of the performance of gender is."
*Flora Wilds, swim ssssstretch, 7 days of performance, 2020, Sculpture (and performance evidence), 10 ft. x 5 ft.
*Flora Wilds, False Neutrals, Fake Naturals, 2020, Sculpture/photograph, 8 ft. x 5 ft. x 5ft.
---
Kengwu Yerlikaya
Website
Instagram
Born and raised in Taipei city, Kengwu Yerlikaya (b. 1993) was a film student at Taipei National University of the Arts before starting a BA in Fine Arts at Chelsea College of Arts (UK). A former film actor, Kengwu immerses himself in the identity reflected by his surroundings. He is now working and living in London.

Recently, his practice has moved toward reflecting socially-engaged issues such as human rights, social injustice, gender policies, and global movements, especially the current drive of society to choose economics over equality. In his work, there is an element of absence, while at the same time, there is a proximity out of candor.


*Kengwu Yerlikaya, Let go the sorrow, 2018, Pile of blank A4 paper (174cm height), written story, pen
*Kengwu Yerlikaya, Love as the stone, 2017, Ready-made object, written story (9 pages of unsent love letters translated in three languages)
---
Bram Keast
Website
Instagram
Bram Keast is a painter and sculptor drawn to the unstable nature of visual imagery and its potential for continuous reinterpretation. His recent work explores a sense of being unmoored, working towards a reconstruction of an origin whose definition is less than paper-thin. What emerges through such a state of disconnect is a blurring of impressions and uncertain identities, a suspension of form in flux. Encouraging a tactile based form of experience that emphasizes the tension between texture and associations, these works distill and condense the passage of time and momentary impressions of space into seemingly familiar shapes and patterns. He lives and works in Winnipeg and earned a BFA (Honours) from the University of Manitoba.
Artist statement:
"Picture a lull in front of a window on an incandescent afternoon, when you stare too long at something bright and the edges of your vision fade into a shimmering fuzziness. A sleepiness that sneaks up on you, exploding into a clatter of clawed feet and leathery wings...Transitory impressions that blur together: chimes brushed by no breeze, its silent notes echoing through your toes; an exquisite pantomime staged by no actors, your gaze captivated by a shifting curtain that tells an epic with a word. A Moment When Your Eyes Glaze Over focuses on moments of solitude that emerge from long days and a progressive, creeping exhaustion that threatens to overwhelm the senses, where there is a kind of dissociation that becomes refuge. Definition and meaning fade, receding into raw sensory stimuli where vision, sound, and touch dance around each other. These are moments filled with potential and a hallucinatory kind of richness. But there is nothing here, not really, only everything a second ago."

*Bram Keast, The Opening, 2020,Gouache on paper mâché, 51" x 30"
*Bram Keast, The Closing, 2020, Gouache on paper mâché, 51" x 30"
---
Yumnia Duarte
Website
Instagram
Yumnia Duarte is a visual artist currently living in Bahía de Banderas, Mexico. She has a Bachelor's degree in Visual Arts and a Master's in Fine Art. Her work focuses on drawing and painting, and she teaches art in middle school and high school as her day job. Her work explores the use of the line and the color as a method of materialization of spatial experience through the abstraction of both physical and emotional dimensions.
Artist Statement:
"I live very close to the beach but also very close to a road that makes a lot of noise all day.
But, for a few days during the quarantine, the road was finally silent, for the first time since I lived here, I could hear the sound of the sea.
I made these drawings thinking about that event, why has something so close become so silent? Will I hear it again in my window? Does the sound come and go like the waves of the sea?"

*Yumnia Duarte, El mar me habló por la ventana, 2020, Collage & graphite on paper, 21 x 30 cm
*Yumnia Duarte, ¿Qué detiene a una ola?, 2020, Collage & graphite on paper, 21 x 30 cm

---
Fern T. Apfel
Website
Instagram

Fern T. Apfel has exhibited widely in the Hudson Valley & Capital Region of New York where she lives. Apfel has also exhibited in galleries in Hudson, NY, Philadelphia, PA, New Haven, CT, and Holyoke, MA. She is a two-time recipient of the Individual Artists Grant from the New York Foundation for the Arts and studied at The Art Students League of New York and SUNY New Paltz. She is a Fall 2019 finalist for The Hopper Prize and is a 2019 grant winner from the Martha Boschen Porter Fund, a Fund of the Berkshire Taconic Community Foundation. Her work is in the permanent collections of The Hyde Collection, The Tang Teaching Museum, The Albany Institute of History & Art, State University of NY Albany Museum, The Shaker Museum Mount Lebanon, The Columbia County Historical Society and Museum and The Art Students League of NY.

Artist Statement:
"The envelopes and letters in my pictures are old and worn. Some have been repeatedly folded, others stashed out of sight for years. Some offer nostalgic reminders of things that no longer exist; others are from bygone friends. As an inquiry into the complexities of our relationships and sense of place, the interplay between what is written and what is left bare challenges us to think about what we keep and what we cast off. That is, what is present and what is absent.
These paper keepsakes are intimate relics of connections that were maintained across distances and referential dialogues extending through many years. In old letters, we find loved ones, parents, friends, and our old selves.
My paintings are about tracking the days of our lives. What we did when, who we saw, wrote to, thought about. Now, more than ever, during this critical time – this enormous
pause
in our lives, we count and consider each day."
*Fern Apfel, Mr. Nobody, 2020, Acrylic & pen on wood panel, 16" x 20"
---
Nishiki Sugawara-Beda
Website
Nishiki Sugawara-Beda is a visual artist working primarily in painting. She immigrated to the US from Japan as a young adult and holds a BA from Portland State University and an MFA from Indiana University. She seeks connections among cultures both from the past and present, currently focusing on tracing traditional Japanese activities and materials back to their origins through her research. Sugawara-Beda has exhibited her work through numerous solo and group exhibitions nationally and internationally. Her works have been shortlisted for various art competitions including the Door Prize (Bristol, England), ArtGemini Prize (London, England), and National Juried Exhibition at Prince Street Gallery (New York). Awards include a Faculty International Development Award, Seed Grant, Alumni Award for Excellence Mentor, Diversity Fellow Program, International Enhancement Grant, Idaho Art Fellow, University Research Council Research Grant, and Sam Taylor Fellowship. Currently, she is an Assistant Professor of Art at Southern Methodist University in Dallas, Texas.
Artist Statement:
"This light-weight sculptural installation, Kotodama Converse, invites the viewer to be united with their own emotional state physically and metaphorically by entering and interacting with the work. In the traditional format of Japanese calligraphy, seals containing characters—the words and phrases—accompany calligraphy work. Because the characters that comprise the seals are being presented without their calligraphic context, the installation provides a blank canvas that serves as an invitation for the viewer to complete the work, contributing psychological and emotional content as they engage. Ultimately, the work encourages the viewer to be aware of himself/herself both physically and emotionally and provides a sacred and intimate place to contemplate with their own being."

*Nishiki Sugawara-Beda, Kotodama Converse, 2012-2020, Mesh wire, rice paper, rice glue, fishing line, and seal ink, Approx. 12 x 10 x 16 feet


---
Katia Yats
Website
Instagram
Katia Yats is a multidisciplinary artist from Moscow, Russia. Her art practice addresses the senses and the sensual while drawing on the edge of contradictory feelings, such as attractiveness and repugnance. Experimenting with different forms and materials, Katia has developed site-specific, humanlike, textile objects that explore fondness, fetishes, and obsession. Her work captures moments of imperfection, unacceptableness, and social taboos.
Artist Statement:
"The performance 'You're a creature, I'm a creature' is linked to and derives from questions relating to the feeling of connection between people, our own bodies, objects, and nature. [This work explores]...what it means to be united and separated simultaneously..."
*Katia Yats, You're a creature, I'm a creature, 2019, performance
---
Anne Yoncha
Website
Instagram

Anne Yoncha (US) is an Assistant Professor of Art at East Central University in Ada, Oklahoma. Born and raised in Wilmington, Delaware, she earned her MFA at the University of Montana and recently completed a Fulbright fellowship at the Natural Resources Institute Finland, working with restorationists to make collaborative art-science work about former peat extraction sites outside Oulu.
Her practice combines digital sensing technology, such as bio-data sonification, and analog, traditional processes including painting with ink she makes from locally-sourced plant matter. Her temporary site-specific installation was selected as the 2018 Emerging Artist project at Blackfoot Pathways Sculpture in the Wild in Lincoln, Montana. She has also been awarded residencies at Cedar Point Biological Station in Ogallala, Nebraska, and Flathead Lake Biological Station in Polson, Montana; and her work has been shown nationally and internationally, notably at the CICA Museum in SouthKorea, Finland's Art Ii Biennial, the Budapest Environmental Project, and Codex Foundation.
Artist Statement:
"
Re:Peat, Layers of Peat in Northern Finland, a Look and Listen
is a recent EDUFI Fulbright Finland Fellowship research project... focusing on peatland extraction and restoration in Finland. Sphagnum builds up slowly...engineering over centuries or millennia an acidic, water-logged desert in which it is one of the few life forms which can survive and thrive...
Each drawing layers 20 images of Sphagnum moss from a conserved peatland site, and each drawing works only the negative space in each layer—not depicting the organism itself, but the space around it. These pieces aim to highlight the anaerobic space surrounding and created by the Sphagnum plant. This hyaline cell structure—microscopic empty spaces in each leaf of the plant—enables it to act like a sponge, absorbing twenty times its weight in water. These microscopic empty cells, so-called dead spaces...shape the peatland ecosystem we see today."
*Anne Yoncha, Re:Peat VII, 2020, Ink, gouache, watercolor, conte, and graphite on paper, 18" x 24"
---
Amarise Carreras
Website
Instagram
Amarise Carreras is a photo-based performance artist, utilizing photography for both documenting and observing while engaging in performative conversations. The results are images of quotidian moments and narratives that portal history, ancestry, altars and still lifes that are alive. The performative aspect references a gentle and deeply personal connection to Amarise's bisabuela and the Boricua womxn. Amarise centers their studies and sensibility on learning about Santeria, a West African religion that has synchronized with Catholicism. This collaboration is a means to understand the survival of their lineage as native to the island of Puerto Rico. Amarise has shown in galleries such as Candela Gallery,
Photocarrefour Gallery, and will be screening photographs internationally with Isla Collectivo throughout 2019-2020.
Artist Statement:
"My work is in direct conversation with the idea of connecting with a sense of ancestry and navigating intimacy while connecting with the ones that have come before myself. The realization that while I carry them I am still not able to fully be them and they can not fully be their ancestors. As diasporic bodies we are proud of our roots and what ties us to the island. These references within spirituality serve as portals to connect the mundane and the divine. The work can exist fluidly from place to place yet carry one unifying force tied to the diaspora's history and communal experience. I put a conch shell to my ear to hear the water moving at the coast in Puerto Rico (a childhood myth). This is where abuela worshipped the Yoruban mothers and prayed for the protection of her children. I am finally close to the water. So close."
*Amarise Carreras, La Madre de Regla, Yemay á, Yemọja, 2019, Digital 16 x 20, 1/3
*Amarise Carreras, Nenx sin patria (our mother's hands becameour homes), 2020, Digital 16 x 20, 1/1
---
Inês Coelho da Silva
Website
Instagram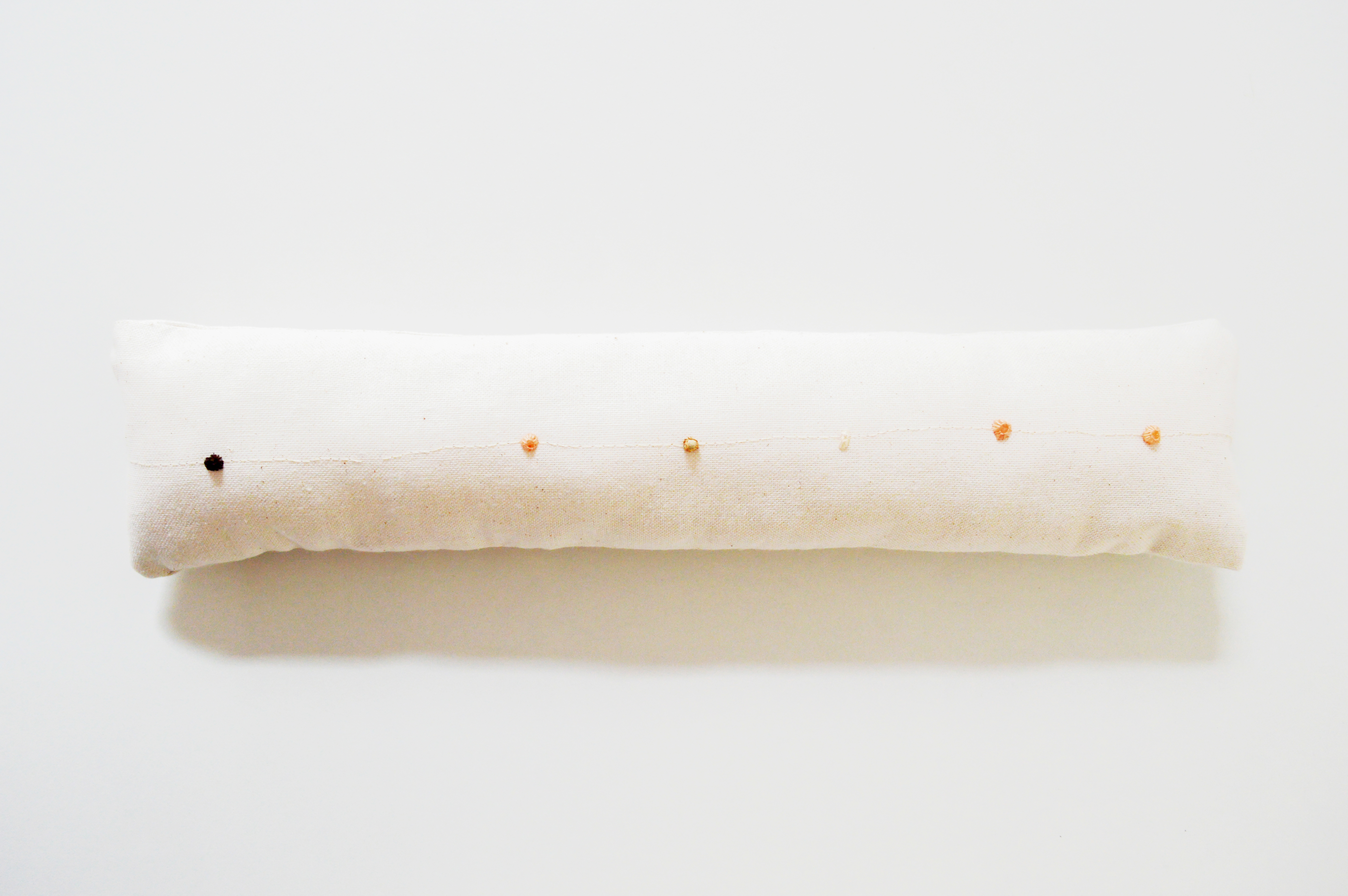 Inês Coelho da Silva was born in Fiães, Santa Maria da Feira, Portugal (1996). Inês completed her Bachelor's Degree in Fine Arts - Sculpture at the Faculty of Fine Arts of the University of Porto. Inês then moved to London, where she now lives and works. Alongside pursuing academic research in the Master of Arts in Sculpture at the Royal College of Art, Inês works as a Ballet Teacher for The Ballet School of London.
Artist Statement:
"...During the past few years, I have been investigating about intimacy, in the relation between the exploration of materials that present themselves as familiar, and emotional connections – both to the latent memory of the objects as to their physicality in body-matter dialogue.

Focusing on the exercise of manual gesture, I shape sculptures from elements of the domestic everyday sphere: food ingredients, textiles, and found objects. The composition of my pieces deals with intricate structures, patient knots and delicate entanglements. In the search for materials, I am interested in "invisible" food elements; the ones we pay little attention – or none. I build these pieces with my fingertips... Despite the piece's invitation to closeness, each element requires, from the presence of those who observe it, silence, care, patience, and time."

*Inês Coelho da Silva, Como dizer adeus a uma Catedral / How to say goodbye to a Cathedral, 2019, Cotton, sea salt, white pepper, pink pepper, black pepper, rose Himalayan salt and rice, 10 x 40 x 7 cm
---
Lili Chin
Website
Lili Chin is a visual artist based in New York City. Her interdisciplinary art practice incorporates natural materials, film, video, ceramics, weaving ,and mixed media to mine historical and personal narratives. She has exhibited at Microscope Gallery (Queens, NY), Abrazo Interno Gallery (NYC) as well as several other art organizations in the US, Scotland, Latin America, Europe and China. Her work has been commissioned by the He Xiangning Museum in Shenzhen (2014) and the Ely Center of Contemporary Art, CT (2018). She has participated in several residencies,
including the MacDowell Colony, Mass MoCA, Swatch Art Peace Hotel, and the Skowhegan School of Painting and Sculpture.
Artist Statement:
"Drawn to invisible realms that are rooted in mythology, oral stories, and natural materials, I source my references from the archeology, nature, myth, and my personal archive. My interests are both individual yet universal as my quest seeks a common visual language through stories and symbols embedded in culture, ritual, and oral traditions. My process, in tune with surrealistic 'automatic' methods, uses intuitive acts of arrangement to create eccentric and absurd sculptures and environments. I am attracted to primal forms that have been created and collected over time...Using an economy of means to restore the fleeting evidence of the past, I invite the viewer to question our physical world and its association with metaphor and representation. Sometimes fragmented and disassembled, these vacant moments are often re-arranged to create intimacy with the viewer.
*Lili Chin, Blind Skin Surface Tension, 2019, Ceramic, terra sigillata, low fired stoneware, porcelain, 21" x 19" x 7"
*Lili Chin, Ipoh Marble Shell, 2020, Paperclay, iron wash, marble, rock, porcelain, 10" x 10" x 16"
---
Six Dash Nineteen:
AliAnn Rushing Attilio and Jessica Lambert
Website
Instagram
Website
Instagram
AliAnn Rushing Attilio and Jessica Lambert form Six Dash Nineteen, a collaborative pair of artists working in sculpture, video, and performance since 2019. Having met while pursuing their graduate degrees at Texas Tech University, Rushing Attilio and Lambert bonded over their shared experiences with competitive volleyball and feminist activism. The numbers six and nineteen refer to Lambert's and Rushing Attilio's volleyball uniform numbers respectively. While the COVID-19 pandemic has limited the duo's ability to continue their competition-based performance, it has necessarily strengthened their ability to work closely despite physical distance.


Artist Statement:
"Created in response to social distancing, mandatory under the COVID-19 pandemic, I MISS YOU uses the ephemerality of evaporating water to symbolize longing for physical closeness. Rushing Attilio and Lambert recorded at different times and locations, then placed the videos side by side. Though each body of text gradually evaporates in the direct sunlight, their simultaneous depiction divides the viewer's attention, exemplifying a continuous loss of moments in time."

*Six Dash Nineteen: AliAnn Rushing Attilio and Jessica Lambert, I MISS YOU, 2020, Video, water, stencils


---
©All rights reserved by the artists