Repair : Reset
About The Artists
Exhibition Dates: June 27 - July 15, 2022
View the exhibition here




Repair : Reset Features the work of :
Jenica Heintzelman
Jamie Ho
Vanessa Leroy
Alan Nakkash
Angela Shaffer
riel Sturchio
Dineke Versluis Curated by :
Mana Mehrabian & Krista Brand
---
Vanessa Leroy
Website
Instagram
Bio:
Vanessa Leroy is a photographer and photo editor based in Boston, Massachusetts. She holds a BFA in Photography from Massachusetts College of Art and Design. She remains on the hunt for new ways of seeing, remembering, and altering the world through photography. She is drawn to image-making because of the power it holds to create nuanced representation for marginalized people and uplift their stories. She sees photography as a tool for social justice, and with it, she hopes to create worlds that people feel as though they can enter and draw from, as well as provide a look into an experience that they may not personally recognize.
Her work has been featured in The New York Times, The Washington Post, The Wall Street Journal, NPR, STAT News, Bloomberg, and exhibited at Gallery Kayafas in Boston, MA — where she is represented.
Artist Statement: "
as our bodies lift up slowly"
project
There isn't a lot of space for dreaming in an oppressive world, so I use photography as a tool to create worlds where I freely navigate the various facets of my life experience and identity as a black queer woman. In my project
as our bodies lift up slowly
, I weave the viewer between the past and present using archival family photographs, text, collages, environmental portraits, and the use of both grayscale and color.
Heavily inspired by Octavia Butler's novel,
Kindred
, in which the young black protagonist Dana Franklin navigates a shifting timeline to uncover truths about her family lineage, I employ non-linear visual storytelling as a method to arrive at similar discoveries. I reflect upon my Haitian Catholic upbringing, the effects of generational trauma, and the relationships that have nurtured my growth. I create photographs that speak to and comfort my younger self and the versions of myself that struggled to carry the weight of having poor mental health and low self-esteem. In revisiting the past and imagining the future, I have created space for myself to heal in the present.
Artist Statement:
Take My Hand
project
Take My Hand
is an exploration of queer love and relationships that blossom despite existing in an oppressive world. I interviewed romantic partners on their motives, desires, and hopes when it came to relationships. We collaborated on portraiture that represented both their individuality and partnership. I sought to visualize how the relationships that queer people share uplift each other and offer stability in uncertain times. I wanted to explore how queer people were defining love for themselves and within their relationships. What I discovered was an illustration of the power that both love and care have to help cultivate self-acceptance.
* Vanessa Leroy, Dark Spring, Part Two, Large format digital archival print, 2021
* Vanessa Leroy, Ty and Kamar, Digital photograph, 2021
Note: Vanessa Leroy's works in this exhibition are from two different projects.
---
Dineke Versluis

Website
Instagram
Bio:
Rotterdam-based photographer Dineke Versluis is interested in the boundary between the public and the private self and turns a documentary lens on how people live, work and spend their leisure time. As a collector who becomes overly aware of a certain object, falls in love with it and then pursues it, she uses the classic roadtrip to find sites and situations that are momentarily devoid of human activity. While looking for scenes to illustrate her topic, most important is always the journey, choosing a couple of destinations on the map but also to change course freely, guided by whatever or whoever comes on her path.
Artist Statement:
It is energy, not water that travels with the waves. I often go to the beach. For a quick swim, to walk along the shore or to see the horizon and get lost in the vastness of sky and water. I feel happy that the world is bigger than I can perceive. But also inspired by a connectedness, as swells are often created by storms thousands of nautical miles away from the beach where they break. On my way to find the perfect wave I see all kinds of obstacles that attract me, both visually and physically. Walls, signs, stairs and foliage. Feeling restricted makes me want to flee. I want to cross borders where I'm not allowed, to climb a fence, to ignore a stop sign, to trespass. I shouldn't let others put a limit on my life. I need to travel, to fly away and broaden my horizon.
* Dineke Versluis, Sign, Digital Photograph, 2021
* Dineke Versluis, Screen, Digital Photograph, 2019
---
Alan Nakkash
Website
Instagram
Bio:
Alan Nakkash is a first generation Iraqi-American photographer from San Diego, California. He studied fine art at the University of California, Riverside. Since graduating he has gone on to establish himself as a freelance photographer in Southern California, often balancing work between personal projects and editorial assignments. He is interested in work that wrestles with the unique identity of Southern California, capturing vignettes that often focus on humanity and nature contending with one another. He has been shortlisted for the Palm Photo Prize (2020), PHmuseum (2020), Photolucida's Critical Mass awards (2020/2021), and was a finalist for the Aperture Portfolio Prize (2022).
Artist Statement:
"Notes From The Field" is an ongoing photo project that has been developed over the last year and a half. It focuses on the passage of time, transition, and place, using the Southern California landscape as it's background. The project leans on on fragmented moments that are quiet and have a sense of atmosphere around them. Making these images is approached with almost an anthropological sense and they are put together with certain aesthetic considerations such as warm light and faded colors that represent the sun beating down on Southern California.
* Alan Nakkash, Oranges, Color Negative Film, 2021

* Alan Nakkash, Dry Dye, Color Negative Film, 2020

---
Jenica Heintzelman

Website
Instagram
Bio:
Jenica Heintzelman is a Guatemalan-American photographer from Orlando, Florida. She attended Brigham Young University where she completed her BFA degree in photography and documentary film in 2010. Jenica received her MFA in photography from the Hartford Art School's International Limited-Residency program in 2020. She has been named by the British Journal of Photography as part of the "2021 Ones to Watch: Community" and exhibited internationally at C/O Berlin and BFOTO Festival in Spain. Her project
Down a Stream
was shortlisted for the Fiebre Dummy Award, SELF PUBLISH RIGA 2021 and the ICP/GOST First Book Award. Currently based in Brooklyn, NY, her work explores themes of vulnerability, trauma and the notion of healing.
Artist Statement:
I am an artist working with photography, text and the photobook. I am fascinated by the mind-body connection and by the role of belief and performance that occurs in alternative healing modalities. I make work that questions visual stereotypes, such as sanitized images of wellness or commodified definitions of beauty. I use gesture and touch to visualize the nuances of healing and repair and create still lifes to reflect on vulnerability and acceptance. By using the camera as a tool for introspection, I see my images as visceral interpretations of my subconscious state of mind.
* Jenica Heintzelman, Pinch, Archival Inkjet Print, 2020
* Jenica Heintzelman, Cascaras de Mandarina, Archival Inkjet Print, 2019
---
riel Sturchio

Website
Instagram
Bio:
riel Sturchio
(they/she) is an interdisciplinary artist whose practice often utilizes photography and its extensions. riel uses their experiences as a queer, chronically ill artist to provoke, and criticize socially idealized normative fantasies of beauty, ability, and gender identity. They live and work in Austin, Texas, and are a co-facilitator of
Begin Collective.
Artist Statement:
In the novel
Field Guide to Getting Lost,
Rebecca Solnit describes,
"To lose yourself: a voluptuous surrender, lost in your arms, lost to the world, utterly immersed in what is present so that its surroundings fade away...to be lost is to be fully present and to be fully present is to be capable of being in uncertainty and mystery." Fully Present
is a sequential journey of active witnessing through domestic scenes and common objects.
Through active witnessing, one sees visual phenomena such as light patterns through a glass, aesthetic objects and instances, such as the imprint of a leaf, and the emotional quality of color and cyan light. By transforming the mundane into magic the depicted aesthetic scenes become future sites for curiosity and meditation.
I pair my academic background in critical queer phenomenology, bodily disorientation, and affect to explore the sculptural tactility of sound, the mediation of distance through varieties of touch, and the value of bodily awareness. I am interested in how my body is forced into disorientation through chronic incurable disease and use this perspective as a foundation for active witnessing rituals. Through visceral scenes, acute details, and rich color I provide my audience opportunities to explore vulnerability and bodily attention.
* riel Sturchio, Window Self-Portrait, Archival Inkjet Print, 2015
* riel Sturchio, Green Stone, Archival Inkjet Print, 2015
---
Jamie Ho
Website
Instagram
Bio:
Jamie Ho is an interdisciplinary artist using GIFs, short-looped videos, photography and sound from Fort Myers, Florida. Her art practice explores the long-term impact of assimilation through the lens of her family and through simulating and subverting her ancestral traditions and rituals. She received her Bachelor of Fine Arts from the University of New Mexico in 2012 and is currently pursuing her Master of Fine Arts at the University of Nebraska-Lincoln. Jaime was part of the 2017-18 Bridge Work: Madison, an emerging artist program, and was a PhotoLucida Critical Mass Finalist in 2021. She had solo exhibitions at Arts & Literature Laboratory (Madison, WI), and Watkins Gallery at Winona State University (Winona, Minnesota).
Artist Statement :
As a second generation Chinese American, I use photography to explore the fear of losing cultural traditions and heritage through the lens of my family. My photographs are quiet reflections of place and personhood, whether it is a portrait of my mother in a Cheongsam, a traditional Chinese dress, or sprinklers caught by the morning sun in the front yard. My parents immigrated from China to the United States to achieve that iconic American dream: owning a home.
They live in a small community filled with cookie cutter houses and a housing association that requires approval of every alteration and every fresh coat of paint. Their house is part of the suburban mold, but is still able to subtly proclaim its difference through tiny details such as the way my father built his garden: a mass of greenery and tiered to fully utilize the space. This is their home, carved out from the generic shell to form a space embedded with our rich family history and culture. As my parents grow older, I worry about the sustainability of what they leave behind. Will their home revert back to its original lifeless form under my care? My work investigates the tension that arises when the familiar becomes unfamiliar. Like the way a childhood home is no longer home when memory and the physical place feels disconnected. My ongoing project, "Canton Gulf," is a rediscovery of the place I have forgotten about over the years of holidays passing without my return. Not only does it touch on universal themes of home and domesticity, but the work also explores the American Dream through the eyes of my immigrant family. My work aims to preserve and examine my parents' legacy and to question if a home is defined by geography or by embedded traditions.
* Jamie Ho, Offering for the New Year, Archival Pigment Print, 2016
* Jamie Ho, Mother, Archival Pigment Print, 2015
---
Angela Shaffer
Website
Instagram
Bio:
Angela Shaffer is a photographer working to bring visibility to hidden aspects of mothering. In doing so she explores the psychology, vulnerability, and banality of motherhood. Angela was recently named a Finalist for the Palm Photo Prize 2022. Her work has been featured in exhibitions with Woman Made Gallery (IL), Spilt Milk Gallery (UK), The Artist/Mother Podcast (TN), Arts Mill (WI), The University of Iowa (IA), and Art Saint Louis (MO). She was a 2021 Critical Mass Finalist with PhotoLucida and she has shared work through an Instagram Residency with DearArtists.
Angela received her B.S. in Art Education from Asbury University and was a High School Art Teacher for five years in Garrard County, KY. She currently lives in Columbia, MO, where she is in her third year as an MFA candidate and Graduate Teaching Assistant at the University of Missouri's School of Visual Studies.
Artist Statement:
My son and I often collide into each other as we navigate our evolving relationship. We also rest in moments of tenderness & stasis.
Good Mother
is about the emotional and psychological labor of raising my son. These images depict my efforts to shape and mold him into the man I think he should become. In spite of this, he pushes against my control and asserts his own position in the world.
In these photographs, we reenact and imagine moments of tension or affection in front of walls and spaces in our home. I direct our performance in front of the lens. Additionally, I use still life objects and isolated gestures to symbolically reference our relationship. Through my attempts to manipulate my son, he barricades himself from me in defense of my encroachment. Yet, our bond is evident in moments when we cling and attach to each other.
I bathe in anxiety about the future, as there are no definitive directions on how to mother. In earnest response to our cultural climate, I am attempting to avoid failure, for I have one child and one chance to get it right. This work is an expression of a need to be a good mother.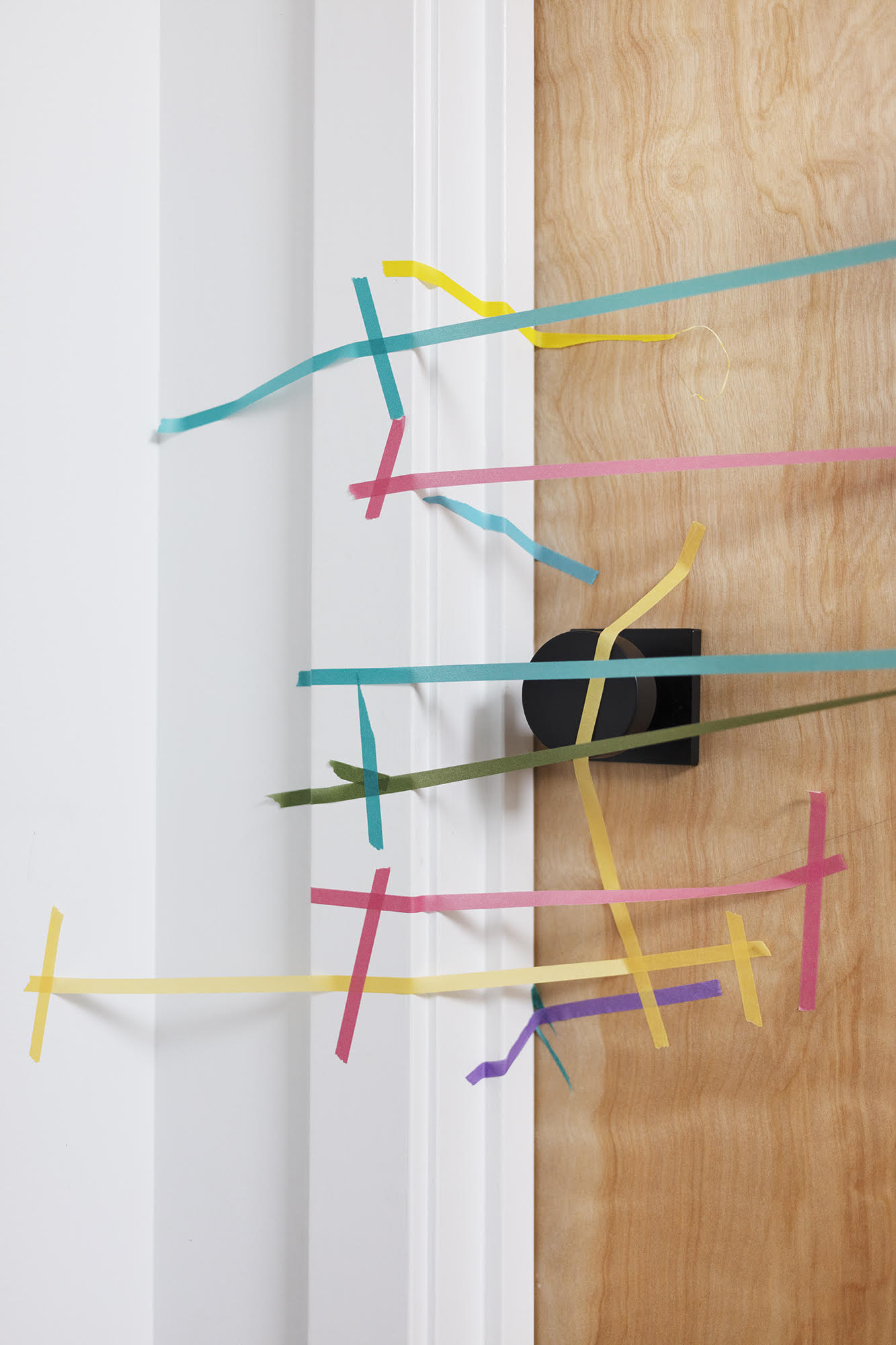 * Angela Shaffer, Embraced, Archival Inkjet Print, 2021
* Angela Shaffer, Barricade, Archival Inkjet Print, 2021
---
© All rights reserved by the artists
---
View the exhibition here